Get A Free Scrap Car Quote! Call Now: 07377 706 620 Or Fill Out A Form
Need to scrap your car? Has your car become end of life or obsolete? We can help you collect and dispose of your scrap car today. We have been operating since the early 1990's and are professional scrap car company collecting scrap cars across the country. We have drivers situated all over the London & Essex, including Dagenham which is poplar area for people wanting to scrap their car. 
We have scrapped hundreds of cars from happy customers in Dagenham. We are a brilliant solution to scrapping a car. Operating 7 days a week, this means you can call us at anytime and arrange collection. So when the time comes to say goodbye to your old banger then get started by getting in contact with us. Call the number located at the top of the page (07377 706 620) or fill out a form also located at the top of page – Remember it fill out correct information otherwise we will not beagle to value your scrap car at the right price. 
Scrap Your Car Essex collection and scrappage service is fully licensed and professional to ensure a smooth process when scrapping your car. We are registered with Environmental Agency, so you can walk away with a peace of mind as we keep the environment in mind when scrapping a car.
How Much Will I Get For My Scrap Car?
There several factors that go into the price you will get e.g Mot failure, Engine condition and general condition of the car. These could affect the price you get paid by one of our drivers over the phone, but our driver will give you the best money for your unwanted car so you will always get a good deal with us.
How Does The Process Work?
There are three simple steps to scrapping a car hassle free and quickly as possible. They are listed below:
Step 1: Contacting & Getting a quote. Its very easy to get in contact with us. Give us a call on 07377 706 620 or fill out a form with name, phone number, registration of car your scrapping and postcode where the car is. We will get back to you within the hour.
Step 2: Accepting Quote & Arranging collection. If your accept the quote with have quoted you then we can arrange collection with one of our local drivers in Dagenham. Once date and time have been agreed on our driver will come to you and collect your scrap car and give your cash on collection. All of our drivers are friendly and fast. Our driver will sort out the paperwork for you. Our driver will be on his way.
Step 3: Scrapped, Salvage For Parts Or Sold, considering on the condition of the car. We can either break the car for parts and gain a profit through selling parts separately. Many cars are just scrapped in a authorised treatment facility and priced on weight of metal. Finally if the car is suitable and safe we may and try and find a buyer for it.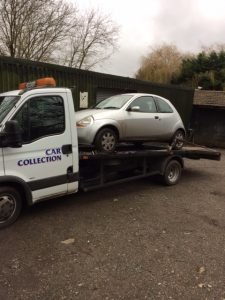 What Documents Do I Need?
There is not many documents that will be needed when you scrap your car. The main documents are : V5 Logbook, The Service history, SORN. Any other documents will be greatly apricated as it may help us sell the car of we wish to do so. 
What Happens I've Lost My Keys?
The answer is that it depends, if the vehicle is rolls and has no electronic handbrake and can be winched on to a car transporter then you will be paid the same money. But if our driver has to break a window or a electronic handbrake is stuck on then we will offer you less. As we have send a lorry with an Hiab to lift your scrap car on the back.