Get Your Free Scrap Van Quote Today! Call Now: 07377 706 620 or Fill Out A Form
Need to scrap your van & want the best price ? Our services will suit you!. We offer a scrap van collection service to all residents across the country. Call us today and get a valuation regarding your end of life van. Alternatively fill out a form with your Name, Email, Phone Number, Van Registration & Postcode and we will get back to you with a quote in an hour.
Why Choose Us To Scrap Your Van?
Human based quotes – Unlike many other companies we do not rely on advanced technology systems to estimate price. We dont believe in such practices as they are proven to be inaccurate and most of the time they offer you less than your vehicle is actually worth. Whereas Humans can carelly price every vehicle checking all details of the car like engine size and weight to help achieve the "best price". 
Peace Of Mind – You may only scrap one van in your lifetime or many it depends. The point is, we are committed to giving you a legal scrap van collection that you will walk away happy after removing your end of life van. 
Unbeatable Price Paid – All prices given by humans are based on today's market and are usually considered the best by many people. Checkout our testimonials on Google or Facebook and you will see how happy our customers are with our outstanding prices. 
Paperwork sorted for you – Our process has been rethinked to make your life easier than ever when scrapping a van . All you need to do is fill out your details and we will call you with a quote. Simple! Also, collection paperwork is minimal. Our driver will fill out the main chunk with you filling out a small minority. 
Licensed & Trusted – We are registered with the DVLA and local councils to remove your van from your driver or the streets in a legal fashion. You can be confident that all car scrappage laws are abided by and followed by our drivers and staff. 
Free Pick-Up Anytime – We are open 7 days a week collecting scrap vans from the streets of the U.K. So when the time is right and you are ready, get in touch and will be able to pick up on the day specified. Important: This only applies during our opening hours, please check our opening hours for more information. 
Immediate Payment – With our collection services drivers give you cash in hand on collection if requested. Otherwise a bank transfer will be done on collection.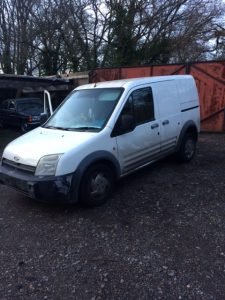 FAQs Regarding Scrapping A Van
Impressive service from a great company. They collected my broken down van from my local garage. The driver payed me the full amount and told me what i needed to do with the slip on the V5. The driver was very informative and were helpful through Out. Thanks.
No hassle involved, uplift of my van was quick. Great communication every step of the way, from arranging collection to getting a quote. If I need scrapping services these people will be my first call.
The company paid me more than any other scrap van dealer in my local area and they offered to collect my vehicle the same day when others were not able to do so. Will be recommending to anyone scrapping a van who I know.