Get A Free Quote Today! Call Now Or Fill Out A Form
Phone Us On : 07377 706 620
Need to scrap your car in Essex today? Well you have come to the right place as we offer scrap car collection services across Essex and surrounding areas. We are well experienced and when it comes to scrapping a old, damaged or end of life car, we have got you covered. Here at Scrap Your Car Essex, We specialise in the collection, removal and disposal of junk/end of life cars. We are fully licensed and comply with all laws regarding disposing of a scrap car.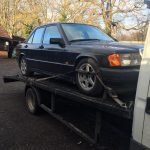 The Simple Steps To Scrapping Your Car In Essex
It my seem daunting scrapping a car, but its pretty simple and straight forward. Whether your car has failed its MOT, been involved in a crash or at the end of its life. Scrapping your car provides a great option. The benefit is you can put the money you get towards a new car. Furthermore, when you use our service we can guarantee the best price for your scrap car.
Its as easy as 1,2,3!
Step 1: You get in touch with us through our phone number or fill out a form & we will get back to you within the hour – This depends on time after opening hours you may not get a reply until the next day. 
Step 2. Then if your happy with the quotation we can arrange collection. Our driver will collect your scrap car at the time/date agreed pay you cash & fill out the necessary paperwork. Our Collection drivers are licensed and can legally scrap your car. 
Step 3: After, we can either sell your car and try and find a buyer for it. Alternatively, If the car is in bad condition it will be scrapped in an authorised treatment facility. Also, we can sell your car's parts for money and make a profit that way. 
Why Choose Scrap Your Car Essex?
That is correct, we always aim to give our customers the best price possible sometimes we may match or beat other companies.
Some companies may like to charge to collect you car out of your area. We do not simply charge this fee so whether your in Brentwood or somewhere else in Essex we can help.
It speaks for its self, yes we can give you cash on collection if you would like.
We have been in the industry for a very long time so we know what we are doing unlike younger companies that may not be as experienced.
Our collection team do not mess around and will come collect your vehicle quick and with no struggle. 
We keep the environment in mind when disposing of a scrap car and take all necessary steps to minimise risk to nature & the environment.
Why Should I Scrap My Car In Essex?
If you own a vehicle which has been badly damaged or doesn't run like it used to, it isn't always a good idea to get it fixed. Repairs can be very expensive often exceeding the cost of the vehicle, but dealerships around the country won't accept vehicles for trade-in if they are unsure they will be able to sell them. Therefore, the most beneficial option is to scrap your car for cash with a trusted scrap car dealer like ourselves.
We offer the best prices and can collect your car same day as calling – Disclaimer within hours of operation (Look At Opening Hours).
How Long Will It Take To Scrap My Car Near Me?
We can collect your scrap car on the same day as calling or we can arrange a date that you agree on and collect it then. 
What Documents Do I Need When Scrapping My Car?
You will need to have the V5 Document at hand when we collect your scrap car. Please let us know before we arrive if there is documents missing. This may affect the price you get as it makes it inconvenient for us.
What Areas Do You Collect From?
How Do I Get My Tax Back After Scrapping My Car?
If your car has been declared as sorned or has been collected by a scrap car dealer like ourselves. Then you can cancel your tax and if your pay yearly you could be eligible for a refund.
About Scrap Your Car Essex
We are well equipped to provide salvage, vehicle removal, old car clearance, car removal services , insurance write offs, car recycling. Contact us for a friendly discussion with our team to sort out scrap car collection arrangements.
We offer a fast removal car service and generally have drivers all around Essex, as soon as you fill out a form and collection and price are agreed, a driver will be sent to your location quickly. No messing around we are quick!. We have 30 years of experience scrapping so you can trust us to make scrapping your car as simple as possible.
Reasons To Scrap Your Car:
Mot Failure
Engine Broken
Lost The Keys
Gearbox Failure
Crash Damaged
End Of Life
Unwanted
Water Damaged
Non Runner
Abandoned
These are only a few reasons why it may be time to say goodbye to your car.
Reviews From Recent Customers
Informative, Friendly & Quick Service. Collected my scrap car without any issues and offered me a top price too! Definitely be using this company again!
Excellent Service with Great Communication. They done exactly what they said they would do. Definitely recommend to anyone scrapping a car.
Prompt Professional Service, First Class Company. Entered my details and got a call back, later that day they collected my car for agreed amount. Simple!
Call Today – 07377 706 620 
Email – Ian@scrapyourcaressex.com 
Remember we are just a phone call away!