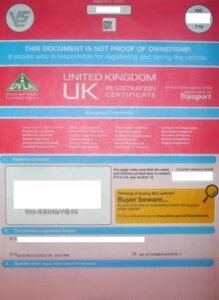 When scrapping your car you need to have some documents at hand to sell your scrap vehicle legally, by far the most important document is the V5 registration document which is same paperwork you would use to sell your vehicle , but instead your are scrapping to a scrap car dealer. A more common name used is "Logbook"
What if i dont have the right paperwork?
If you don't have right paperwork when we collect your vehicle, our agent may have to give you less than agreed over the phone as that will need to cover cost of applying for lost, logbooks, documents or HPI check that may happen to prove ownership
Make Sure to fill out right paperwork
The V5 document of ownership is a two part process (you fill out one side and one of agents will fill out other side) that informs the DVLA that the ownership of the vehicle has change. Our agents may ask for other documentation for example: MOT certificates these can have some value.
Make sure to collect a receipt 
Make sure that you get a receipt for your vehicle, that should clearly state there business name and address.