Call On 07377 706 620 Or Fill Out The Form Below For A Quote
Where Can I Scrap My Car In Grays?
Right here with the help of experts! We have helped many customers with the removal of their scrap vehicles over the years. From the hard task of dragging a old car out of a garage where it has been sitting in for years to a roadside pick up. We cover all the bases. Our scrap car collection service is done right and professionally. Working with us to remove your car from Grays will be a walk in the park for you. Our expertise in the market makes us an excellent choice for scrapping a old car.
How Can I Scrap My Car In Grays ?
You can started now by getting in contact with us via filling out a form located at the top of page. Remembering to fill out all key information: Name, Phone Number, Registration & Postcode. Alternatively you can call us directly on 07377 706 620 for a free no obligation quote over the phone. With the form we will give you a call back within the hour of filling it out. Once you contact us we will ask you some general questions about your car E.g. is the car complete, does it have alloy wheels or steel wheels, do you have the logbook (v5) etc. Then our team will offer the best quote possible for your vehicle. The quote we offer on phone is the agreed amount some sneaky scrap car dealers will try to con you by knocking the price down when collecting your car we do not. Furthermore, you decide whether to accept the quote or decline the quote. If your happy with the quote then our team can start to sort the time, date and location for our local Grays driver to collect your scrap car. If your wondering "Does collection cost?" No!. We are honest with all customers who use our service and don't have hidden fees like distance cost. Our driver will come to your on the date and time agreed. They will turn up with a lorry ready to load your car onto the back. Then they will proceed to fill out the necessary paperwork and give the payment payed in cash. They will leave with your old car and take it to a authorised treatment facility otherwise know as a  scrap yard ready to be crushed and weighed in for the metal weight.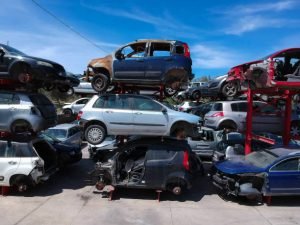 Why Use Us To Scrap Your Car In Grays?
Top Prices Paid 
No Sneaky Fees
Many Years Of Experience 
Hassle Free Service 
Large Collection Areas.
How Much Will I Get For My Scrap Car?
With over 30 years of experience and a scaled company that is one of the biggest collectors of vehicles in Grays. We are very experienced and have an edge on any new comers to the market. Our price are top as well sometimes even offering more than scrap value for any car. We will ensure you always get a good deal when scrapping a car with us. So what you waiting for get in touch today! There are certain companies that falsely fee you for silly things, like a missing logbook or a door mirror. You can be assured when using us we will give you a great price without adding unnecessary fees on top. Also lots of scrap vehicle dealers like to add collection fees weighing the price down even further. We offer free collection whether your an hour drive or 15 minutes away from us. It doesn't matter we wont charge.